Sometimes, as a geek, there is nothing I like better than letting my geek flag fly. I wear geeky clothes, I make geeky references, and I keep a geeky desk at work. However, sometimes you just have to get that geek out in the world, and specifically, out in your yard! Today's Etsy shop can absolutely help you with that because Doug makes Zombie Garden gnomes.
What do you make?
We make ZOMBIE GNOMES! Garden Statuary models of gnomes that have been infected by the Zombie virus.
Who are you and/or how did you get started?
I'm a special effects artist thought just got this crazy idea for a side business. So I did the proto-types & they were a huge success. So, I find myself making more gnomes now a days than doing effects work.
What makes your items great for geeks?
They are the Original & Best out there. Sure I've been copied recently, but they fail in comparison to our's. It is just a geeky fun idea to think that a garden gnome is turned into a zombie. Gnomes are already creepy enough, but making them into ZOMBIE GNOMES just puts them over the edge.
What do you geek out about?
Anything Horror or Comic Book related. I love going to Horror Conventions & of course Comicon! It is such fun being in a place full of the stuff I love with like minded people.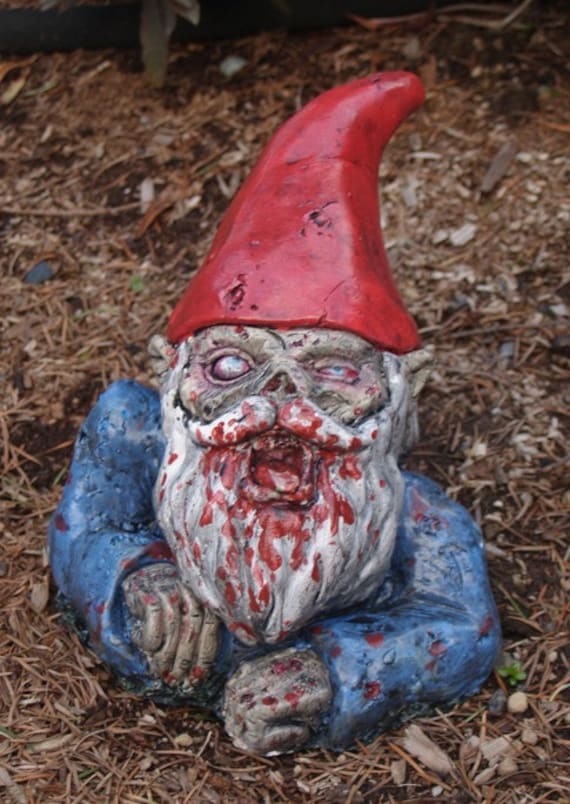 It's quite disturbing to watch undead David crawl out of the ground, but yet, I still want one, even if only to freak out the neighbor's dog. Christmas list?! Better order soon, these are mostly custom made, but definitely worth it!